It was another year of growth here at Zello. To celebrate, we sat down with co-founder and CTO, Alexey Gavrilov, co-founders Alexander Vinogradov and Eugene Mymrin, and CEO, Bill Moore, to see where Zello has been and where it's going.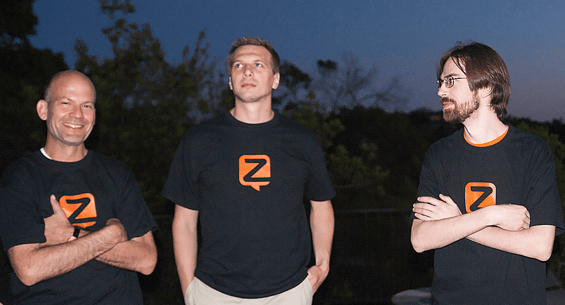 Bill Moore, Eugene Mymrin, and Alex Gavrilov in 2012
Where Zello Got Its Start
Growing up in Samara, a mid-sized city in Russia, Zello co-founder and CTO, Alexey Gavrilov, wasn't a big fan of phones. His family didn't have a landline, and his only real association with phones came from running out to a nearby payphone every time his twin sister had a medical emergency and his parents needed him to call for an ambulance.
By 2005, though, he had a Motorola V535 flip phone. This was just before the age of smartphones, and the concept of having applications on a phone, no matter how basic, was both novel and inspiring. The chat program, ICQ, was very big in Russia at the time. But the program required using a T9 keyboard, which was cumbersome. That's when Alexey started thinking about a medium space between a phone's capabilities and that of a chat app: an asynchronous, push-to-talk voice app.
Still, any application he could build would work on a very limited number of phones at the time, and the technical requirements for two-way audio were many. Plus, voice is much more difficult to deal with technically than a communication medium like text. A voice message carries a lot more information, which means more data to be sent, and therefore more bandwidth. This can make things difficult to work with on poor quality networks. And while no one cares if a text is 10 seconds late, a voice conversation is all but impossible with any kind of delay. What's more, connectivity in those days wasn't nearly as good as it is today. Solving the problem of voice would mean making the right tradeoffs in terms of reliability and quality of latency — finding the right balance between conflicting constraints and requirements.
Due to these difficulties, the idea sat dormant until 2007, when Skype's popularity in Russia illuminated what was possible with a desktop application.
"Okay, we have Skype for calls," Alexey thought. "We have instant messenger applications like ICQ for text. Can we do something in the middle that's asynchronous communication and always on like text but without typing, and that's as instantaneous as voice?"
That's when it hit him: push-to-talk communication. It already existed in radio, and now was ripe for adaptation to the digital age.
With this idea in hand, he reached out to his soon-to-be cofounders, Alexander Vinogradov and Eugene Mymrin. The idea was immediately attractive from an engineering perspective.
"As an engineer it was an interesting idea to build the backend," says Alexander. "I always had an urge to build some kind of server that handles large volumes of traffic. This was a really good opportunity to do that."
"Skype was being used by millions of people," adds Eugene. "We had a shot at developing an app that could potentially be used by millions of people as well."
The small team quickly got to work, with Alexander on the backend and Eugene focused on the app.
Before long, they had a minimum viable product to launch at TechCrunch 40 Mobile and Communications Conference, a competitive event for new startups. The company's original name: LoudTalks.
Making In-Roads With Enterprise
But while the co-founders built LoudTalks with big growth in mind, it took some time for it to gain traction, and LoudTalks continued to be a moonlighting project. The original product was free, just like the consumer app still is today, and there weren't too many people using it initially.
However, one company that was using the app approached the co-founders to tell them how much they loved it, and to ask for help in using it with their own server, as their internet service wasn't great while their intranet service was solid. That's when the idea and basis for a paid service, what would one day become Zello Work, was born. At that time, LoudTalks didn't have any of the infrastructure to support the idea. The two Alexes and Eugene got to work developing a virtual machine and management console to support the company that approached them.
The Launch of the Blackberry App & Explosive Growth
After the initial success with this first company, more companies began to get on board, which familiarized the team with the needs of the enterprise world. At this time, Blackberry was incredibly popular in the enterprise world, so in 2011, the team tried their hand at a Blackberry App.
"It was built in response to business users who asked for a Blackberry app," says Alexey. "We designed it keeping in mind Android because it was becoming a popular developer platform."
Given that growth previous to this point had been slow but steady, there were no expectations for explosive growth. The team published the Blackberry package for the app on the LoudTalks website and went about their days. When they checked back in, they were surprised to see 500 people online. The next day they were even more surprised to find 1,000. Then it was several thousand people. It kept doubling every day until there were 2 million people added over the course of just a few weeks.
It was the growth they had been looking for, and there was much cause to celebrate. There was also much work to be done, as there were still only the three initial developers, working with a server physically hosted in Eugene's kitchen.
"It was a wild journey," says Alexey. "We had three people working on this product: me, Alex, and Eugene. Especially this server side, keeping up with this giant influx of users was extremely challenging. The number of people who tried to sign up was overwhelming capacity."
Much work had to be done to keep up on the server side, with much code rewritten to support the influx of users and deploy on bare metal servers in Softlayer data centers. The team had to keep pausing downloads and sign ups to reduce load on the system.
"I had to study and rewrite the code several times," says Alexander. "I was fixing one problem just to wake in the morning and see another one."
The experience also produced new pressure to create a more feature-rich experience.
"We didn't have channels," says Mymrin. "We had group communication that was basically multi-task with minimal server participation."
This got the team thinking about adding what would soon become some of Zello's most popular features, such as channels.
This is also when the team finally knew they had a project that was much more than a moonlight. They soon looped in Bill Moore, founder and former CEO at popular radio app, TuneIn, where Bill had hired the team as contractors.
Bill instantly loved the idea.
"It was radio, but instead of broadcast radio, it was social radio," he says. "The live human voice is powerful. I've always loved CB radio. This was CB radio but it was an app and it worked all over the globe. I just thought, 'This is really cool.'"
But just as compelling to Bill was the team itself, with whom he had worked since 2002.
"Alex would tell you what you didn't want to hear and then do it," recalls Bill. "He's the greatest guy I've ever worked with."
He was similarly impressed with Eugene and Alexander, and had successfully recruited Eugene as a full-time TuneIn developer. Now that he'd moved on from the company, this was a great excuse to work again with Alexey, and on a product he loved.
Bill came on as CEO, moved the team to Austin, rebranded as Zello, and the rest became history.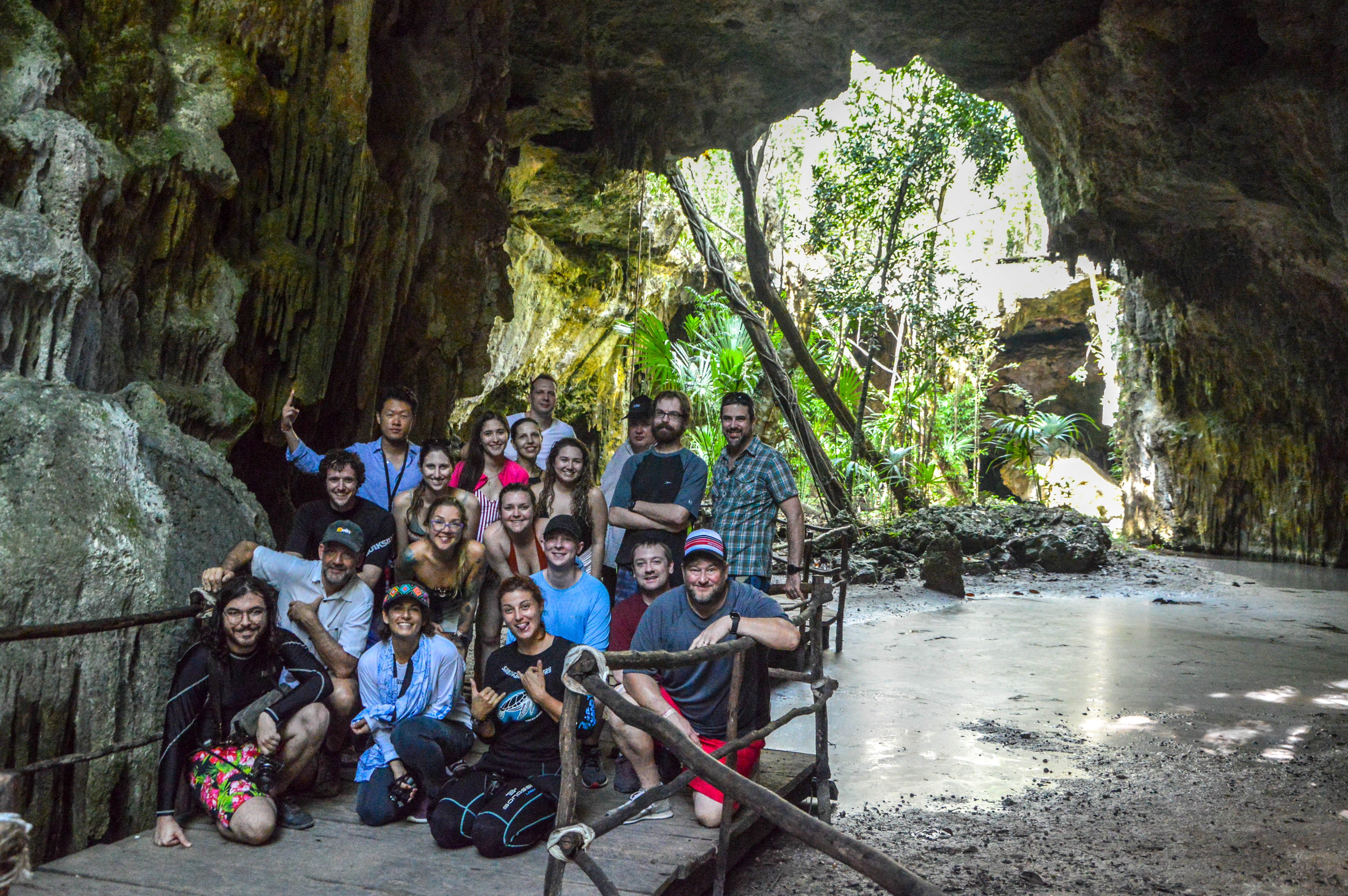 The Zello team at the 2019 company hackathon in Mexico.
Continued Growth Through Today
From 2011 onward, Zello has continued to grow rapidly around the globe, especially with the launch of the Android app in 2011 and the iOS app in 2012. As we covered in our recent look at the data around the most significant world events in Zello's history, Zello has had an incredible impact, helping users from around the world connect, forge friendships, coordinate rescue efforts during disaster, collaborate with colleagues, and resist oppressive regimes. There are constantly new channels, especially during times of crisis around the world, when users sign up in droves. The most chaotic moments are often the most moving, such as when the developers worked around the clock during Hurricane Harvey to account for a rapid influx of new registrations.
"When we connected to those rescue channels, it was really emotional," says Alexander. "We got to see what impact we were really making while keeping this alive. At that time we didn't have text messaging and location sharing but we did have images. So, people would put their address on a napkin and the number of people and number of pets they had and say, 'please help,' and send this image to this rescue channel."
Recently, the app reached 150 million users. Even if the original developers designed a product they hoped could scale, getting here has been "mind-blowing," in the words of Alexey. "I wasn't thinking about this as a popular consumer application, just a business-focused product that will grow."
And as for the future?
"It's not so much about the numbers," says Alexey. "It's seeing those stories, like first responders using Zello as a form of Emergency Dispatch in South Africa, citizens helping each other, using it to fight crime, and so much more."
"Over the next year, we're focused on securing large enterprise accounts and scaling Zello in a predictable way," says Bill. "Zello is Zoom for frontline workers. It's the very best product in a category that's broadly important. But beyond that, we want everyone in the whole world to use Zello."
The possibilities are sure to be just as if not more creative, surprising, and inspiring as what's come before. That's the power of the human voice.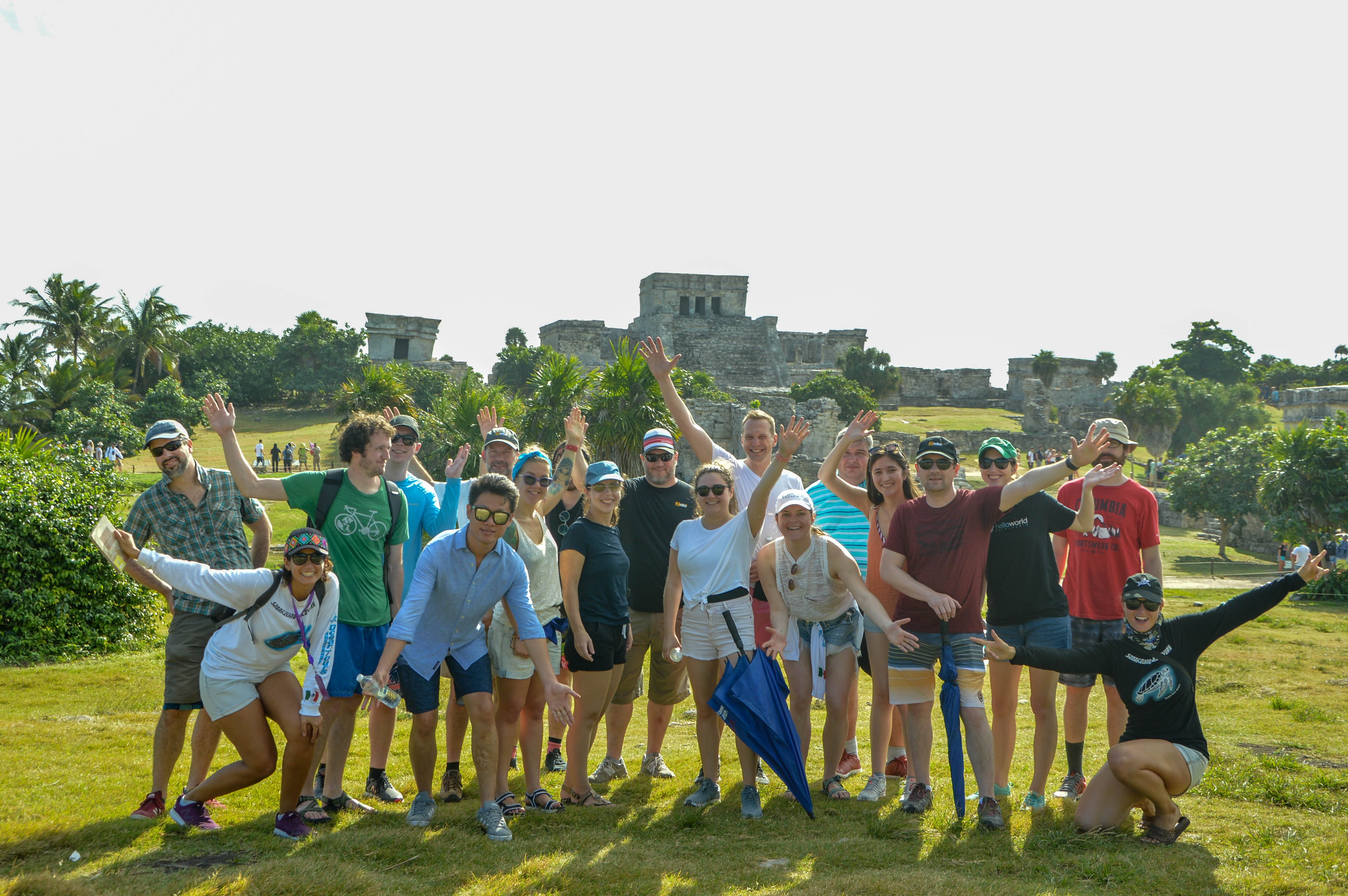 The Zello Team at the 2019 company hackathon in Mexico.