Zello's walkie talkie app was chosen as the communications solution for the 2015 Toyota Texas Bass Classic (TTBC). The world-famous fishing tournament was held at Lake Fork in Quitman, Texas during the Memorial Day Weekend, May 23-25, 2015. Along with the tournament, a music festival featuring country music stars was scheduled to be held later in the afternoon, providing fun and exciting activities for both anglers and non-anglers alike. Unfortunately, Sunday and Monday festival events were cancelled due to rain, but the fishing went on, and Zello continued to work even as storm and tornado warnings were in force.
The TTBC staff evaluated many push-to-talk (PTT) communication options, but only Zello for Work offered all the features they needed for this important event.
Benefits of Zello Walkie Talkie for Tournament Communication
Superior coverage not possible with 2-way radios

Ability to define groups and separate judges by assigned flights

Ability to talk one-to-one or one-to-many in groups of unlimited size

PC-based admin console allowing admins to monitor all 35 judges on the lake

Bluetooth headset compatibility for improved audio in a noisy environment

History feature with date and timestamp to replay messages when needed

Centralized recording archive to store all voice, text, and images shared during the event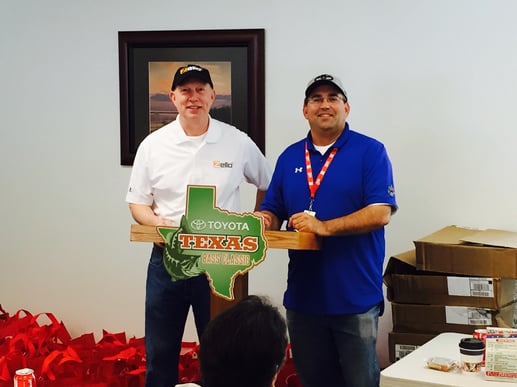 During the competition, judges used Zello to expedite the weigh-in process. Each angler on the lake was accompanied by a judge connected to the Zello network using an Android smartphone. Whenever anglers caught a fish, judges used Zello's live voice transmissions to instantly relay weights back to the Scoring Control Center on shore. This allowed staff and spectators to know who was in the lead within seconds of a catch. The instant weigh-ins also allowed the anglers to quickly release their catch, reducing trauma to the fish.
Staff at the TTBC event was impressed by Zello's inaugural performance at this year's event, and it made for a very exciting and fast-paced event for all attending. Event organizer, Tim Cook, exclaimed, "Coverage on the lake with Zello is far greater than with two-way radios!".