June has been a very busy month for Zello, especially since we attended two major trade shows back-to-back. First, we traveled to San Francisco to attend ENR FutureTech, the leading conference for emerging technology in the field of construction. Then we packed our bags and headed to Minneapolis for HITEC, one of the largest hospitality conferences in the world. Even though these events focused on different industries, we have a couple of takeaways that we'd like to share with you.
Secrets from

ENR

FutureTech 2019

1. Communication in the field and between the office and the field is evolving.
Traditional, two-way radios are going out of style, and more advanced communication solutions are taking their place. The need for lightning fast communication over arbitrary distances means that walkie talkies simply won't cut it anymore. Construction workers need to stay connected not only to other works in the field but also to managers in the office and truck drivers on the road.
2. The ideal construction tools save time, money, and lives.
In the past, advances in construction technology have improved some areas at the sacrifice of others. A faster, cheaper tool that saves time and money would be less safe, for example. Or a very safe tool would take longer to use and be prohibitively costly. In the 21st Century, the goal of construction technology is to provide uniform advances that keep projects on time and under budget while keeping workers safer than ever.
3. Construction is more collaborative, and involves more people, than ever before.
Construction jobs now involve more players than ever before, from project manager, designer, engineer, field worker, and more. With so many individuals contributing to one single project, workflow and collaboration tools are taking a center stage in the race for leading construction tech.
Secrets from HITEC 2019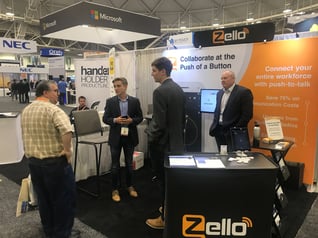 1. Hotels need to respond quickly to guests' needs.
In this world of instant response and service, hotels are no different. The hospitality industry is always looking for ways to quickly respond to guests' requests and upgrade their service. Competition in the hospitality industry is fierce, and guest reviews on TripAdvisor and other rating sites are king. The better response and accommodation hotel staff can provide, the better the reviews and business.
2. Hotel groups are using technology to stay ahead of the competition.
Having a technological advantage against your competitors could mean the difference between staying in business and prospering. With better technology, communication becomes more efficient between all parts of the management process, this includes transportation, front of house, and housekeeping. Advantages in these categories provides better service, customer satisfaction, and less frustration of staff members.
3. Hospitality technology must allow properties to grow at scale.
As hotel properties become more successful and grow, the technology they use needs to be able to keep up. Imagine, for example, that you run a hotel with 20 staff members and you equip them all with traditional walkie talkies. Each walkie talkie costs at least $400 to purchase, and that's not even counting the cost of repairs. You'd pay $8,000 in IT communication costs, but now imagine that your operation grew three times as large. Now you need to provide 60 staff members with their own expensive radio. When they break or need to be upgraded, it's more money out of your IT budget. A major trend in hospitality technology in HITEC was keeping technology scalable to avoid this kind of situation. If there is no room for growth, there's no room for the tech in your hotel.