Guido Gutiérrez, from Radio ADN, introduces Zello to his listeners. Zello was used during the 2010 Copiapó mining accident, which began as a cave-in on August 5 at the San José copper-gold mine in the Atacama Desert near Copiapó, Chile. The accident trapped 33 men 700 meters (2,300 ft) underground. The men survived for a record 69 days. Listen to the Radio ADN interview with Bill Moore, CEO of Zello, below:
Interview Transcript
There were not enough radios for the number of volunteers that came to the rescue of the miners from the San José Mine. The solution was to install the Zello application on the phones of the rescuers. The app donated a professional account called Zello Work which the've continued to use since then.

This application, with more than 100 million registered users, was developed by Bill Moore, the inventor of TuneIn Radio.

It is currently based in Austin, Texas and its services operate almost anywhere in the world with Internet access. Once installed, it allows you to use a cell phone as a walkie talkie or PTT radio. That is, you must push a button to talk and it stops transmitting when you release it. And you can speak privately with users or with several of them by creating your own channels.

We chatted live, through the Zello application, with a few users from different parts of the world:

"Hello, I am from Turkmenistan. I am listening to Radio ADN de Chile."
"Hello, how are you? Greetings to Radio ADN from everyone from Barcelona."
"Hey there, Radio DNA friends. This is Yoselin from the central station commune. I use the Zello application to communicate with people from different countries and regions"
"Hello Radio ADN, greetings from Buenos Aires."
"Hello friends of Radio ADN, a greeting here from Rancagua."
"I am a trucker and I am on my break - I use Zello to communicate with my colleagues, check addresses and all that. A very warm greeting to Radio ADN."

The Zello application is especially popular during emergency situations because it allows live conversations with those who need help and they can be heard by multiple users. That is why it is also used by rescue or logistics teams. According to its creator, Bill Moore, "there are two main reasons why consumers use Zello. One is what we call a social radio. There are many applications in crisis that become popular. Friends and family use it to coordinate. There are thousands... millions of channels on many different topics, but they often depend on the people who are with them. The second part includes businesses. So companies use a version of Zello in which they have their own private network, and they use it when they implement mobile communication for their worker, or need a replacement for radio."

Zello provides the technology so that you create your own open and private channels and thus give them the utility that best meets your needs for oral and instant communication.

You can use it on PC or Mac, as well as on iPhone or Android. More information at Zello.com.

Guido Gutiérrez ADN.
If you too want to see what it's like to have your own private Zello network to replace radios, extend the range of your voice communications, or simply improve the productivity and efficiency of your organization, click the button below to start a 30-day trial of Zello Work:
En Español
Guido Gutiérrez, de Radio ADN, presenta a Zello a sus oyentes. Zello se usó durante el accidente minero de Copiapó en 2010, que comenzó como un derrumbe el 5 de agosto en la mina de cobre y oro San José en el desierto de Atacama, cerca de Copiapó, Chile. El accidente atrapó a 33 hombres a 700 metros bajo tierra que sobrevivieron durante un récord de 69 días.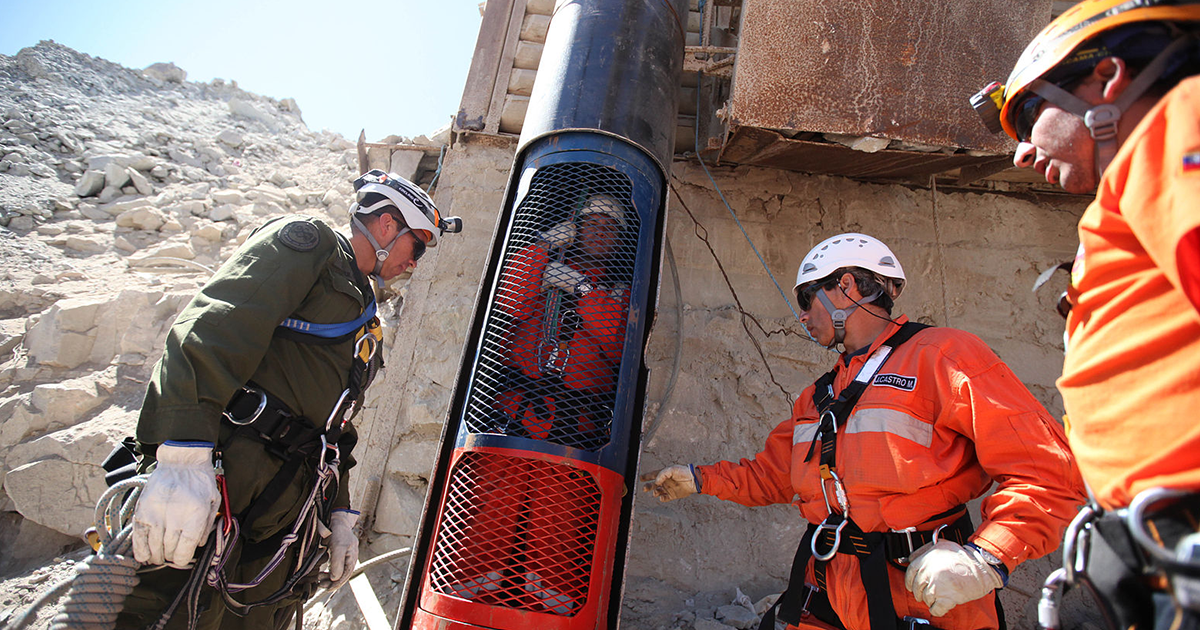 Para el rescate de los Mineros de la Mina San José, no había suficientes radio-transmisores para la cantidad de voluntarios. La solución fue instalar la aplicación Zello en los celulares de los rescatistas. La app les donó una cuenta profesional llamada Zello Work la cual usan desde entonces.

Esta aplicación con más de 100,000,000 de usuarios registrados fue desarrollada por Bill Moore, el mismo inventor de TuneIn Radio.

Actualmente tiene su sede en Austin, Texas y sus servicios, funcionan en casi cualquier parte del mundo donde haya acceso a internet. Una vez instalada, permite usar el celular como walkie talkie o radio ptt.

Esto es, debes presionar un botón para hablar y se deja de emitir al soltarlo, se puede hablar en privado con usuarios o en público con varios de ellos. También se pueden crear canales propios.

Conversamos en directo, a través de la aplicación, con algunos usuarios de diferentes partes del mundo:

"Hola, Yo soy de Turkmenistán. Estoy escuchando Radio ADN de Chile"
"Hola, que tal? saludos a todos desde Barcelona a Radio ADN"
"Qué tal amigos de Radio ADN. Aquí le saluda a Yoselin desde la comuna de estación central. Utilizó la aplicación Zello para poder comunicarme con personas de distintos países y regiones"
"Hola Radio ADN, saludos desde Buenos Aires"
"Hola amigos de radio ADN un saludo acá desde Rancagua"
"Yo soy camionero y estoy en mi hora de descanso y utilizo Zello para comunicarme con mis compañeros, consultar direcciones y todo eso. Un saludo muy cordial a la radio ADN"

La aplicación Zello se vuelve popular especialmente en emergencia, ya que permite conversar en directo con quienes necesitan ayuda y estos pueden ser escuchados por múltiples usuarios. Es por eso que es utilizada también por equipos de rescate o logística. Así lo cuenta su creador, Bill Moore, "Hay dos razones principales por lo que los consumidores usan Zello. Una es lo que llamamos una radio social. Hay muchas aplicaciones en crisis y se vuelve popular como ellas. Amigos y familiares lo usan para coordinar viajes. Hay miles... millones de canales sobre muchos temas diferentes, pero a menudo dependen de las personas que están con ellos. La segunda parte incluye a los negocios. Por lo tanto las empresas usan una versión de Zello, que es una red privada y la usan cuando implementan aplicaciones móviles para sus trabajadores y necesitan un reemplazo para la radio."

Zello, pone la tecnología para que crees tus propios canales abiertos como privados y así darles la utilidad que mejor satisfaga tus necesidades de comunicación oral e instantánea.

Puedes usarla en PC o Mac así como en iPhone o Android. Más información en Zello.com con "Z" y doble "L".

Guido Gutiérrez ADN