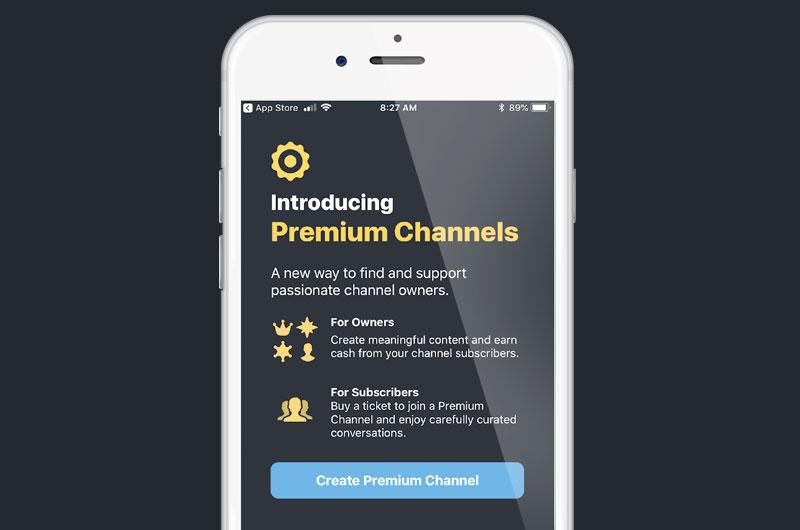 Premium Channels, the newest Zello feature, is included in the release of Zello for iOS 3.56 and Android 3.105. We are really excited about this new channel type because it allows channel owners to do something they enjoy and to also profit from it. We hope Zello listeners benefit from this feature with the creation of higher quality, carefully curated, and more active channel content.
This is the first iteration of Premium Channels. During this introductory period we want users to familiarize themselves with the new channel type and gather feedback for improvements. Currently, tickets are a one-time fee. In the future, we plan to add a subscription based model, where paid subscriptions or "tickets" can be renewed on a monthly or annual basis.
Here are some quick facts about Premium Channels:
During beta period only users in the U.S., Canada, Mexico, South Africa, and Russia can create premium channels.

But anyone in the world can be a subscriber.

Subscribers must have Zello for iOS v3.56 or Android v3.105 installed to create or join a Premium Channel.

No refunds are available.

Make sure you listen to channel introductions before buying a ticket.

Free access invites can be sent by the owner, to anyone on Zello, from the channel profile settings page. The length of the free access is determined by the owner. Once the owner revokes free access to a subscriber, the subscriber can decide if he wants to purchase a ticket to keep listening.

Premium Channels cannot be deleted or transferred.

You cannot convert a free channel into a Premium Channel.
So you may be asking "how much can I make?" Well, that's up to you and how popular your channel becomes. There is no limit on the number of subscribers you can host. For every paid subscriber, owners will receive 50% of the fee charged to subscribers. Currently, the one-time fee is 99 cents (USD) to join a Premium Channel. Owners will be paid via their PayPal account for new subscribers at the end of each month. For example, 1000 new paid subscribers during April, would make you $495 USD in total (1000 x .99 x .5) at the end of April. If you do not have any new subscribers join in May, then no payment will be made at the end of May.
NOTE to U.S. owners: U.S. tax laws requires any income generated over $600 to be claimed as taxable. When you hit this amount, we will inform you via email.
If you consider starting a Premium Channel, here are some tips on how to attract the most subscribers and make it a success:
Promote the channel on your social media accounts on a regular basis. Include the channel QR code and/or URL link so people can easily add the channel.

Send out free access invites to your Zello contacts and other people you know who would be interested.

Make the channel inviting to all and be clear on what the topics are by recording a great channel introduction. If you only intend to be online at a certain time or day, put the information in your channel description.

Assign mods and admins to keep the channel free of disruptive users and keep the channel operating smoothly. Post channel rules on your channel profile description.

Use channel alerts to inform your subscribers when you're online.

Channels must follow

Zello TOS

and

Guidelines.

Zello reserves the right to remove channels that are in violation, and no refunds will be issued to subscribers.
If you have interest in a topic or subject matter, or have expert advice and information to offer people, Premium Channels are meant for you. It's your personal platform to reach millions of people around the world. We look forward to seeing your Premium Channel become a big hit!
For more information on Premium Channels, go to Premium Channel FAQs. If you've got any suggestions, let us know by commenting below or emailing support@zello.com.