Great communication between sales associates and managers on a showroom floor can mean the difference between making and breaking a sale.
After all, a customer will only wait so long for a sales associate to find an answer to their question or locate a desired product before they get frustrated and decide to shop elsewhere.
The walkie talkies many retailers still rely on for employee communication across vast showrooms provide poor sound quality over chatter-filled channels and don't reliably connect. This often necessitates leaving the customer behind to track down answers from the right people, which wastes time and interferes with the associate's relationship with the customer. What's more, walkie talkies are often not in line with the image many higher end retailers are trying to project.
The good news is that digital push-to-talk technology is quickly changing the way that sales teams work within stores and across stores. Not only does push-to-talk software greatly benefit the customer experience, but it also helps increase employee satisfaction and retention.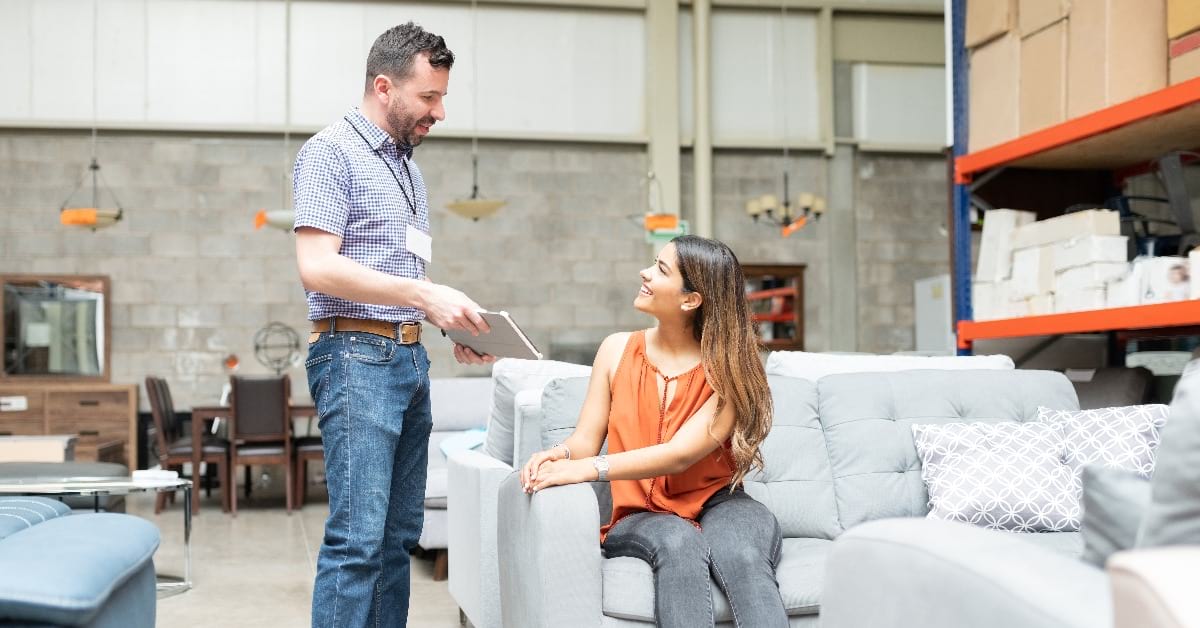 How Zello Provides Communications Solutions for Retailers
Let's take a look at how Zello's push-to-talk app is helping several different retailers solve communications problems across their showroom floors.
Using Channels to Target Communications
With 20 showrooms and half a million square feet of retail space, it was no wonder that sales associates at one large retailer often felt isolated from their managers and teams. Poor sound quality and the inability to get a quick response lead to disengagement and turnover across the company.
But then executives rolled Zello out to employees. Administrators created channels where employees could instantly and clearly communicate, allowing for 1:1 conversations, and both intra- and inter-store team discussions.
Now, if a customer wants a new sofa that's not in stock at the physical location where they're shopping, with a tap on their app, a sales associate can communicate with the "living room teams" across all stores to see where the sofa is available.
Executives report that using Zello channels has been the solution they were looking for. Employees no longer feel siloed within their own stores, since they are able to work across stores to deliver the best results as fast as possible, as well as better within their stores.
The result? Happier customers and employees, and increased ROI.
Hands-Free Push-to-Talk with iPads: Sleek and Efficient
One high-end retailer was concerned that their communications were ineffective and off-brand.
Not only did every sales associate carry a bulky walkie talkie to communicate with coworkers, but they also held their smartphones, which contained other apps necessary to do their jobs.
Juggling these devices was awkward and didn't sync with the upscale look the retailer wanted to project.
The sales associates also needed a hands-free solution so that they could pick up product samples or flip through catalogs with customers.
The solution? Zello's digital walkie-talkie app in combination with the iPads that every employee carries in over-the-shoulder cases. Plus, Pryme mini-microphones.
Now, all employees have their hands free to showcase products. When customers have questions, employees tap their iPads, speak into their headsets and quickly track down answers—all while maintaining eye contact and conversation with the customer.
The new devices have greatly improved the speed of communication while projecting a contemporary, high-end look that matches this retailer's brand.
Onsite Servers: Off-the Grid
Another large retailer with over 100 stores in the US and Canada wanted to ditch their traditional walkie-talkies for push-to-talk software.
But they didn't want their employees reliant on a basic internet connection to communicate in the case of an emergency like an adverse weather event.
Zello worked with this retailer to create onsite servers at its shops, so these teams now use an off-the-grid communications solution.
Now executives can rest assured that even in an emergency their employees will continue to be able to communicate and get directions they need to respond quickly to the event.
The Best Push-to-Talk App Is More Than a Walkie Talkie
For retailers, there's no question that upgrading from a traditional walkie-talkie radio to a push-to-talk app can improve customer engagement, decrease employee turnover, and increase ROI.
And when you make the switch, you might as well use the best push-to-talk app available anywhere across the globe.
Learn more about how Zello can help your retail team maximize collaboration and create a more satisfying experience for customers.