"I like helping people in need," says Nikos Doxakis, "and to be honest, the adrenalin when working in the field cannot be compared to any other feeling. My job has a direct impact on people's lives and is very rewarding."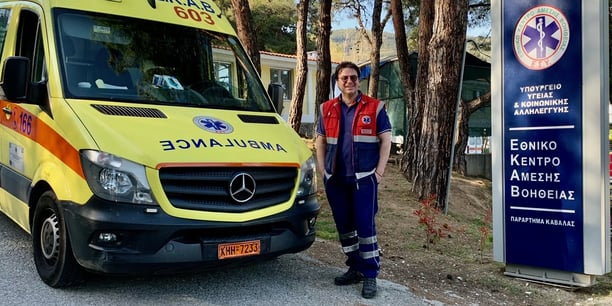 For the past seven years, Nikos has worked as an EMT with the National Emergency Center in Northern Greece. This government organization, known as EKAB, responds to emergencies throughout Greece, which is no easy task when you consider the terrain of a country that includes 170 inhabited islands.
EKAB provides immediate pre-hospital medical and nursing care to all citizens. It aims to reduce mortality, the length of hospital stays, and the cost of health care. EKAB also operates dispatch hubs in each of the nation's administrative regions, where call center dispatchers assign cases to teams of rescuers, which include Emergency Medical Technicians (EMTs) and nurses.
While the geography of the country makes providing emergency services uniquely difficult, Nikos and the EKAB rise to the challenge every day.
Challenging Geography
Nikos works in Northern Greece. The region he serves contains the city Kavala and the island of Thassos, which has 12,000 permanent residents and is flooded with thousands of tourists every summer.
Kavala, where Nikos lives, is built on a peninsula that juts into the sparkling Aegean Sea. It has an old amphitheater nearby and is surrounded by a wall that was used for defense from invaders. Over time, the city expanded east and west. Today there are old and new sections of Kavala.
In most parts of the city, easy access to homes is limited since there is no organized network of roads. Instead, there are thousands of stairs running up the mountainside.
"This makes responding to an emergency in Kavala both difficult and time consuming," says Nikos.
And it isn't just the city of Kavala where the geography presents unique challenges. Throughout Greece, emergency responders have to navigate difficult terrain and figure out how to help people who live on distant islands.
To reach patients wherever they may be as quickly as possible, EKAB emergency responders use 735 ambulances, 102 Special Mobile Units, 25 motorcycles, 3 helicopters operated by the Greek Air Force, and several small express vehicles.
Nikos says, "In Kavala we have a small passenger car in which a doctor and an EMT travel. We also have one motorcycle ridden by an EMT. These vehicles allow us to be more flexible and move faster in the city."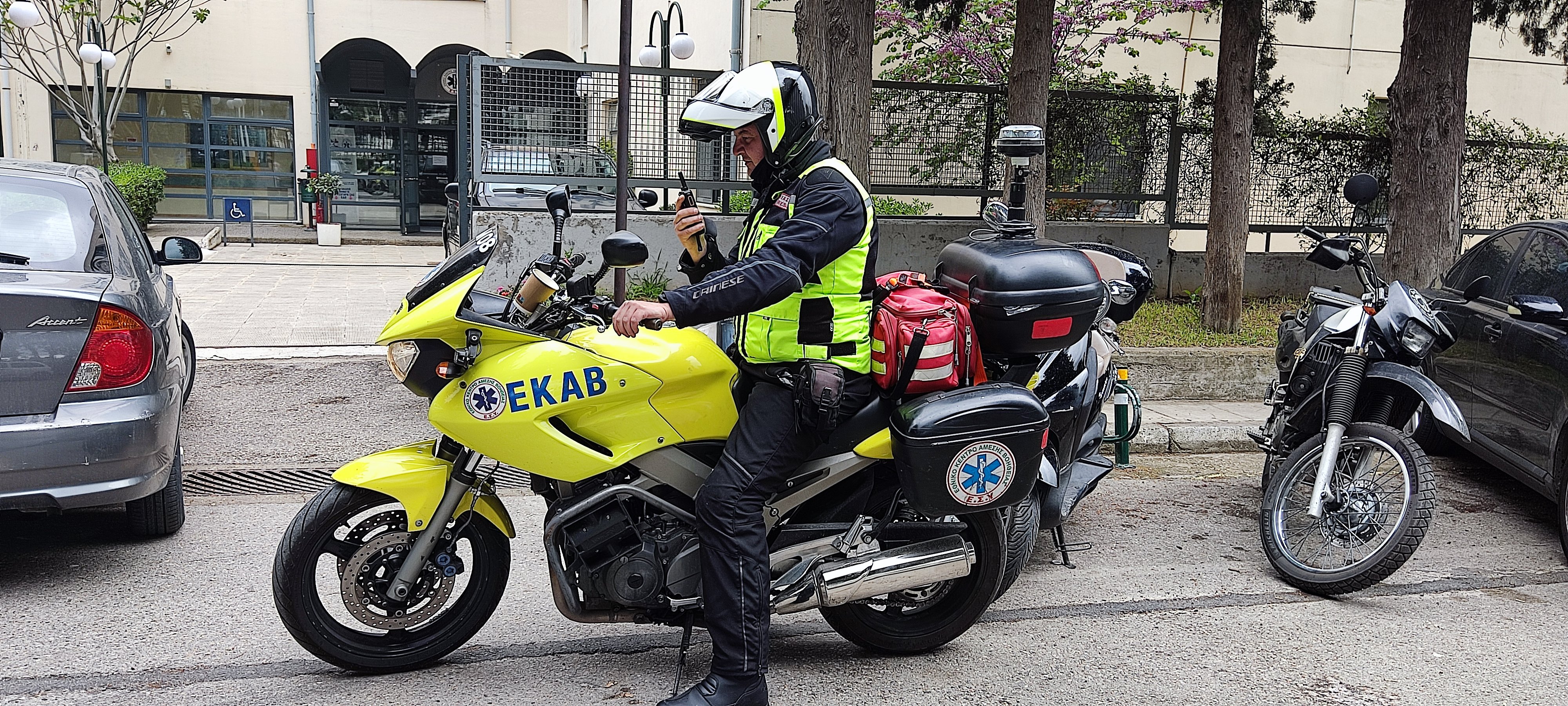 According to Nikos, the motorcycle is especially helpful for circumventing traffic in city centers, and for responding quickly to critical cases when there is a shortage of ambulances.
Responding to Islanders
Because of its location, the Greek Islands can be a harrowing place to be when people experience medical emergencies. Usually, people will go to a health center, a small unit that provides initial assessment services to patients, located in regions with low population. While the patients are at their local island health center, EKAB workers arrange transport of the patient by ship to the mainland.
"Usually the patients are transferred from the island's health center to the ship and then they are picked up by EKAB from the mainland's port and transferred to the hospital. Such a transfer might last up to fifteen hours," Nikos says. "Then, once on the mainland, we might need to airlift the patient either by plane or helicopter to ensure fast transfer to the hospital."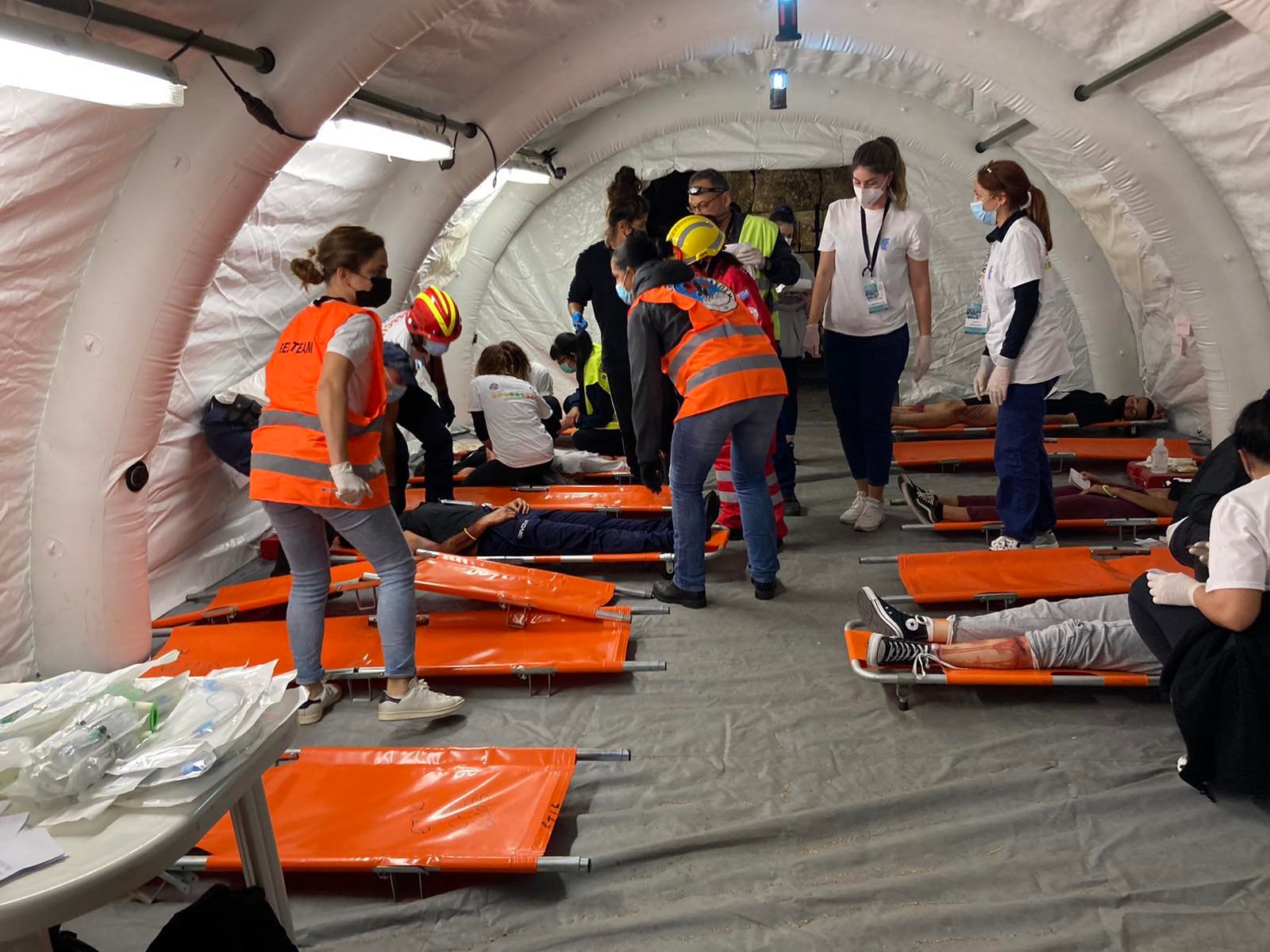 While there is a hospital in Kavala, it is not always equipped to meet every patient's needs. Nikos explains that during the pandemic, EKAB in Kavala arranged for the emergency transfer of three COVID-positive patients to a hospital in Athens. The Department of Air Transfer sent a properly converted plane with three Patient Isolation Capsules (ISOCAP) to the airport in Kavala.
"Once the patients arrived at the Kavala airport in three EKAB ambulances, we loaded them into the capsules on the plane and then transferred them successfully to the hospital in Athens," Nikos says.
In Athens, the patients received desperately needed treatments that weren't available in Kavala.
Communicating Clearly
While he's working, Nikos spends his time either in the regional call center in Kavala or on an ambulance.
In the call center, Nikos accepts all emergency medical calls, and records and rates them according to urgency. Then he mobilizes the nearest ambulance to the scene in order to respond as quickly as possible. Next, he monitors and guides emergency staff throughout the crisis, maintaining constant communication with the hospital and other local authorities.
When Nikos is in the call center, he communicates with the 50 EMTs in the region via Zello.
"Our previous system used radio waves," Nikos says. "But since Zello uses the mobile telecommunication network, the communication between the call center and the ambulance crew during the emergency response is more effective. The recording of the messages is also an asset."
While emergencies happen regularly, mass accidents are particularly challenging.
"Coordinating the response to a mass accident is extremely demanding and requires excellent, clear communications," says Nikos. "One day I was working in the call center, when I received a call about a car accident. A car flipped and the passengers suffered serious injuries. There were ten adults in the car."
"The situation demanded a quick assessment of the seriousness of the case and a quick response," Nikos says. He spoke back and forth with the first ambulance crew that arrived on the scene.
"This gave me a clear idea of what was going on," Nikos says. In the end, he sent three ambulances, and then coordinated the transfer of seriously injured patients to a local hospital.
In situations like this, Zello is crucial to communication.
"By using Zello, the ambulances have better reception and in case of an emergency that requires first aid, we use Zello to provide important guidance to the EMTs," Nikos says.
But Nikos doesn't just work in the EKAB Kavala call center. In fact, he spends most of his time at work in an ambulance, and he always rides with a partner. The two medical technicians get directions from the call center, and then drive to find the patient in need. If the patient requires transport to the main hospital, Nikos and his partner pick up the patient and then it's often a 3- or 4-hour drive to reach the destination.
Finding His Passion
As a young man in his twenties, Nikos worked in catering and as a paralegal. But when he was about 30 years old, he ran into an old friend who was working as an EMT.
"I was fascinated by the way my friend was describing his job, so I decided to pursue a career in the field," Nikos says.
Nikos got trained as an EMT and then attended the EKAB Institute of Vocational Training for two and a half years. After that, he got his job with the governmental agency.
Nikos loves how he can work with all kinds of people and all ages in his daily work. One day, while working in an ambulance, he arrived at a home where a mother had just given birth. He arranged for her successful transfer to the hospital with the infant. Another day, he helped an elderly man who needed emergency care but was refusing treatment. Nikos was able to persuade him to go to the hospital to get urgently needed care.
"As an EMT, most of the people I come in contact with are in pain and experiencing high levels of stress which affects their character," says Nikos. "But in the case of an emergency, my actions and the care I provide to a patient can improve their health and sometimes even save their life."