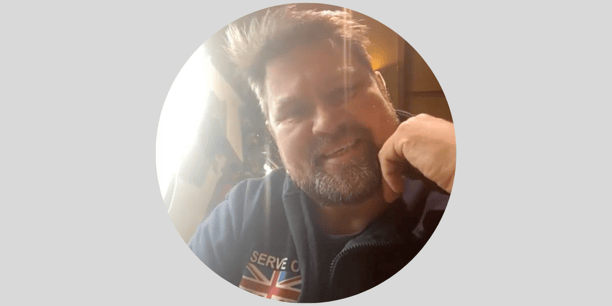 For the past four years, Dan Cooke has made his home in a 60-foot steel barge that he shares with his partner, a circus trapeze artist, and his Australian kelpi, who is part dingo and a search-and-rescue dog in training.
By day, the three meander down the beautiful waterways, surrounded by kingfisher birds, otters, trees and greenery. By night, they moor their 60-foot barge in the canal, one hundred feet equidistant from two pubs.
Despite his wanderlust, Dan has a solid direction in life and he is part of the tightly-knit community of Serve On, a humanitarian response charity whose dedicated volunteers help communities in need, whether at home or abroad.
Serve On has more than 130 volunteers that join the organization's teams, which include the International Response Team, the Community Resilience Team, the Rescue Rookie Team and the Dog Rescue Team. The volunteers also mentor young, marginalized and disadvantaged members of their communities.
About half of Serve On's volunteers are former military personnel. The organization sees ex-military personnel as a rich resource and provides a way for them to serve on as civilians.
Looking to Help
Prior to joining Serve On, Dan Cooke spent 17 years with the fire service. By the end of his run, he was a district commander in charge of seven stations.
"Fire service is a great job and you get your pension, but I wanted a bit more variety, travel, massive challenges, and most of all, to be able to help people."
Dan's wish was granted when he joined Serve On as part of its International Response Team.
Over the past 20 years, he has joined international disaster response teams across the globe, including in Indonesia, the Philippines, India, Pakistan, Nepal, Kenya, Oman, Haiti, the British Virgin Islands, Peru, and Columbia.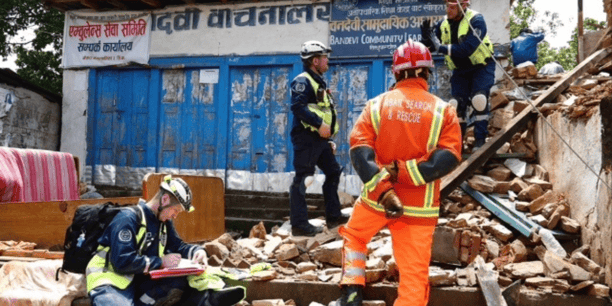 "We don't go where we're not needed," he says. "And when we do go, we go really fast."
Dan's first international mission with Serve On was search and rescue after the Kashmir earthquake hit in October 2005.
"It was 23 hours from the earthquake hitting to us getting to Pakistan and helping to find somebody," he says. "A lot of time we're clearing buildings and finding the deceased, which is really important work. We were on a 12-story block of flats that came down. It took the lives of 76 people. We rescued seven people in six days."
Empowering Others
Dan has also worked with Serve On volunteers to help develop search and rescue teams in countries without robust operations of their own.
For example, Serve On delivered modern fire equipment to a fire station in Peru. But the organization didn't stop there. Other volunteers then trained the local firefighters on how to use the equipment to respond to disasters.
The first time Dan visited the fire station in Peru, he led hazmat training with Peruvian volunteers. "We sketched an idea of a training facility they could build with tunnels and slabs and things their volunteers could break and breach," Dan says.
The next time Serve On volunteers visited Peru, they went back to that station. "The Peruvians had built a proper training compound with a fire service training tower, rebar, and everything," Dan says.
Rescue and Recovery in Haiti
In 2010, Dan flew with Serve On to Haiti to respond to a magnitude 7.0 earthquake that killed approximately a quarter million people. (Death toll estimates range.)
Dan and a team of about a dozen Serve On volunteers stayed in Haiti for two weeks, clearing destruction, making rescues when possible, and going building-to-building with relatives to confirm the deceased.
Amidst the incredible devastation, Dan experienced a heart-warming surprise: the Peruvian firefighters Dan had trained had flown to Haiti to help .
When it was time for the rescue mission to end and the humanitarian relief to flow in, Dan says that Serve On's team tried to make the local people the actual heroes of the movement.
"We empowered them to manage their own recovery," he explains.
Supporting the Families
While Dan and other volunteers are on international missions, the Serve On community back in the UK works to support the families of their traveling volunteers.
"There is always a person from the organization dedicated to calling our families while we're away to tell them what we're doing," Dan says. "The real idea is to check up on them, and if someone is struggling, the UK team will go and help them."
He remembers one time when a family member of a volunteer in Haiti was concerned about a dripping faucet. A Serve On volunteer drove 5 hours to check up on the family and fix the faucet.
Because Serve On's international volunteers know that their loved ones are taken care of, they can focus one hundred percent on their performance while responding to a disaster.
"At Serve On, we are an extended family," Dan says.
Training New Recruits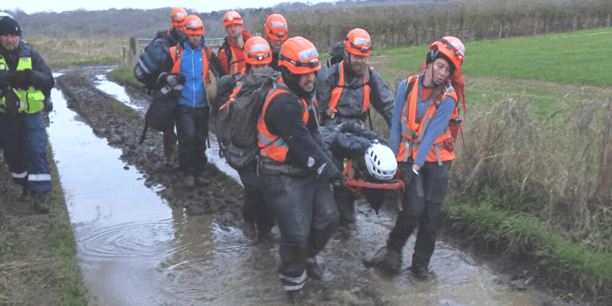 Today, Dan Cooke is Director of Operations for Serve On. In this role, he helps run training for new members. Whether responding to a national or international emergency, Serve On volunteers need intense training.
To recruit volunteers for search and rescue missions, Serve On holds what's known as "Selection Weekend."
Dan and other Serve On members organize a weekend full of simulated disasters for the potential recruits. Applicants may simulate digging someone out of a collapsed building or controlling an angry mob on the street.
"Selection Weekends are incredibly intense," says Dan. "We've got a facilitating team made up of coaches. They organize the whole weekend and watch and learn how people perform."
Coordinating Training Via Zello
During Selection Weekend, the coaches use Zello to coordinate the journey for the applicants. One coach might contact another and say, "This person needs to be put under more pressure, so when she comes around the corner to you, why don't you tell her there's a person trapped under a car?"
Coaches also use Zello to record their observations of participants and how they respond.
"We play our messages back later as a group. We'll have a photo of someone with a voice explaining, 'This person responded really well to the scenario with a person trapped under a car. Here's why.'"
Dan says the playback feature on Zello helps the coaches review what happened later, when the adrenaline isn't rushing anymore and the coaches can logically assess everyone's performance. Typically, less than half the people who go through the selection weekend end up joining one of the emergency response teams.
Challenging Teams via Dark Swan
In addition to using the Serve On training facility for its own volunteers, Dan Cooke pays Serve On to rent the facility for his business, a company called Dark Swan, which he co-founded with his business partner Al Humes, who is a 30-year British Army vet.
Dark Swan uses Serve On coaches to provide athletes, entrepreneurs and multinational teams with challenge-based leadership training.
"The idea is to take people out of their comfort zone and on a journey of self-discovery, deep reflection and profound change," Dan says.
Dark Swan pays Serve On for the coaches and the training facility, which helps sustain the NGO.
Responding Locally
In addition to its international work, Serve On is equally devoted to helping local communities in any way possible.
The Serve On Community Resilience Team is comprised of volunteers who support local authorities in responding to emergencies.
As local emergency responders work adverse weather events, missing persons, or power outages, members of the Serve On Community Resilience Team will work with those authorities to fill in any missing gaps they may have in terms of supplies or labor.
But all of Serve On's work isn't about emergency response.
Volunteers throughout the UK provide humanitarian assistance to their neighbors wherever they can.
In Salisbury, locals donated to Salisbury Hospital Charity in order to get Serve On volunteers to haul away their trees after the holiday. The result? £21,586 GBP ($28,232 USD) donated to the local charity.
Using Zello in the Field
Serve On volunteers use Zello out in the field to coordinate their teams, as well as to create time stamped recordings of their risk assessments and decision making.
Not too long ago, Dan and Serve On participated in a large-scale missing persons operation in Wiltshire, England. The Serve On team communicated with each other using Zello.
"With a handheld radio, you're limited to range and structures that can get in the way of the signal," says Dan. "But the best feature of Zello is playback because it timestamps our messages."
During the missing persons operation, the incident commander back at the base then asked him questions in real-time. Dan used Zello to communicate with the commander, and then record where he was searching and why.
Better yet, after the event, Zello's playback functionality allowed Dan to go back and review the decisions he made in the moment and why he made them. In this way, Zello enables Dan to learn from each event and become a more skilled emergency responder for the next operation.

Flying into the Future
Just as Dan and Serve On embrace Zello's voice-first push-to-talk technology to help them get their critical work done, the organization is looking into other cutting edge advances to assist with rescues.
If you think travel by jet pack is a long way off, think again.
Whether by voice or jetpack, Dan and other members of Serve On are excited about how the new technology will significantly advance their ability to stage rescues, especially in floods. Watch the video above to see how this might work.
Unanchored But Not Unmoored
While Dan Cooke and Serve On are not anchored to one location, they certainly have a clear mission wherever they go:
"Live to serve. Serve to lead. Lead to change."
It is this devotion to providing disaster and humanitarian relief that floats through Dan Cooke's veins and keeps him focused on his purpose in life.
"We're volunteers doing something you couldn't pay a wage to do," he says. "At Serve On, we're part of something very, very special."