The Big D isn't all about big hair and the state fair. But you already knew that. It's also one of the best places for retail industry leaders to convene. In late February of 2022, over 500 leading retail supply chain executives gathered in Dallas for LINK2022 to connect, learn and explore innovative best practices.
According to RILA Vice President for Supply Chain, Jess Dankert:
"The challenges retailers are navigating from shore to shelf make this the perfect time for the industry to come together to learn from one another, hear from industry leaders, and network with leading solution providers."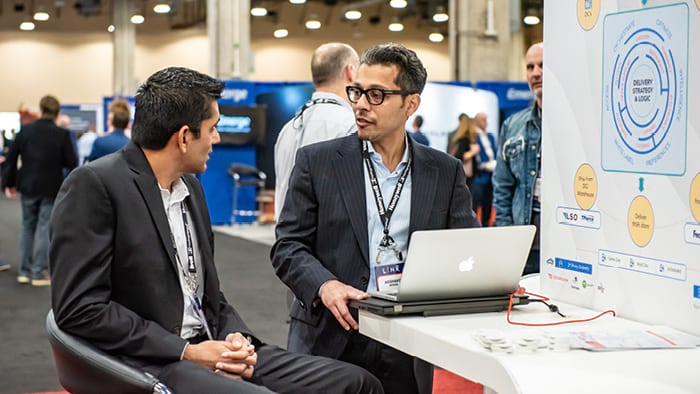 With a novel solution in hand, the #1 push-to-talk app on the planet, Zello, hit the Gaylord Hotel in Dallas with an exclusive network for conference attendees in retail, freight and supply chain. Every user could activate their private network, and instantly communicate with their colleagues while at the conference.
"The hope was that Zello's value would be immediately realized by hundreds of users," said Vanessa Haughton, Senior Vice President of Marketing at Zello. "Our goal is for our customers to increase efficiency and productivity with asynchronous voice in any environment. Simulating an experience that the supply chain ecosystem could understand was the most meaningful way to show that value."
Zello is a powerful communications platform that enables quick, clear conversations between team members. The networks provided at the conference offered a mobile workspace for attendees to connect by voice with their co-workers. Attendees experienced in real time the huge impact that push-to-talk provides operations in action. From retail users communicating from the front to back of house, to freight users navigating seamless distribution, fulfillment and last mile, Zello strengthens critical relationships at every turn with a unique and necessary solution that enables companies to innovate their supply chain processes.
"This is a pivotal moment for the supply chain community," said Dankert. Trends noted and our top 5 takeaways on both freight and retail industries focus highly on technology:
The future of retail is hybrid. Combining offline and online experiences is key.

Real-time data, live snapshots of actual supply chain processes, and digital representations of current physical assets enable businesses to predict and adapt to or mitigate challenges before they happen.

Customers are demanding end-to-end visibility and collaboration.

Industry is leveraging solutions including artificial intelligence, robots, and real-time inventory visibility.

Distribution and fulfillment automation must remain safe and compliant.
While supply chain challenges are at an all-time high, attendees gathered to find solutions and Zello provided answers. With instant voice communication, text messages, photo sharing, location tracking, emergency alerts, and more, mobile workforces use Zello to save time and money at the push of a button.
Zello provides the leading push-to-talk solution for increasing communication and collaboration in businesses with mobile workforces. Companies and organizations of all sizes use Zello's award-winning push-to-talk app on virtually any device and network. Zello serves thousands of businesses and has more than 150 million users worldwide. And who knows, maybe you'll see Big Tex using Zello at next year's state fair.
Contact one of our team members today to learn more about what Zello is doing to innovate retail communication and drive efficiencies.