With traditional radio communications, drivers and dispatchers communicate all day long, but there's no way to capture critical data embedded in these conversations—informational jewels that can help save companies significant sums.
For example, do you know:
How many calls do your dispatchers answer per hour?

On average, how many minutes each of your dispatchers spends resolving a driver query?

Which of your dispatchers are performing the best?
Capturing and analyzing this data on Zello provides significant savings to our customers.
This is particularly true in the ready-mix concrete industry, an industry in which every second counts.
Ready-mix concrete is perishable; if it's not delivered and poured within two hours, it can't be used. As a result, any insights that can lead to improved delivery times can prevent thousands of dollars of materials from going to waste.
Several companies that deliver ready-mix concrete and other construction supplies use Zello's Dispatch Hub and rely on Zello's Dispatch Analytics. Let's take a look at how visibility into key metrics has helped these companies to greatly reduce delivery times and increase team performance:
Visibility is Key
When leaders at one global company that delivers ready-mix concrete began to use Zello's Dispatch Analytics, they immediately noticed that their dispatchers spent a median time of 8 minutes to pick up a driver's call, and that it took dispatch about 3 minutes to resolve the issue.
These delays bloated delivery times and sometimes led to wasted materials as well as upset customers.
To address these issues, the company's IT department implemented Zello's shareable call queue, which distributes incoming calls across available dispatchers. This dramatically reduced call wait times to under a minute.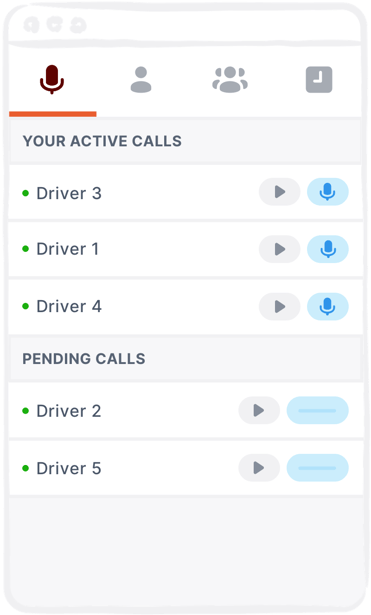 With that part of the problem solved, leaders next wanted to reduce the time it took for dispatchers to help drivers with their problems. Why was every call taking so long?
To analyze this, leaders turned to a combination of Zello's Analytics and Message Vault. When calls come through the Dispatch Hub, they're assigned a unique ID. Using meta data in Message Vault, managers quickly spotted which calls took the longest and picked out the unique call ID for those calls and replayed them. They could then troubleshoot, bringing their findings back to training sessions.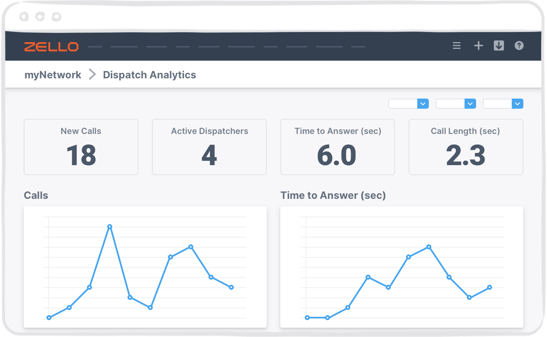 With the Analytics and Message Vault features together, leaders of this company say they saved hundreds of thousands of dollars of ready-mix concrete over the course of the year.
Zeroing In
A dispatcher at another construction supplies company that operates on the US East Coast says, "I like my guys to get four to five loads a day depending on the distance. If a driver's sitting out on a job site for an hour, I might not have time for him to do the last load of the day."
Dispatch Analytics motivates dispatchers like this one to improve performance by providing real-time feedback on her ability to help her drivers. And since this particular dispatcher works hard to optimize deliveries all day long, Zello's Dispatch Analytics enables her managers to recognize and reward her efforts.
This data also helps managers zero in on any dispatchers who need more support working through a high-call volume quickly and effectively solving driver problems.
Dispatch Analytics: Unearthing Data Gems
Most dispatchers and drivers operate under tremendous pressure to deliver goods on time, whether this is because the delivery items are perishable or simply because it's what the end customers want and expect.
Companies that use Dispatch Analytics to unearth data gems, have access to the information they need to quickly improve operational efficiencies—information that positions them to improve communications between dispatchers and drivers and beat the competition.
Learn more about Zello's Dispatch Hub and Dispatch Analytics.