Zello Celebrates 100 Million Users
It took us almost 9 years to do it, but Zello registered users now exceed 100,000,000! We are very proud and excited about this achievement and want to share it with our Zello fans. Without the support generated through word-of-mouth by our users, we could not have attained this major milestone.
A Little Zello Trivia
Zello started out as "Loudtalks" in Russia back in 2007. The original Loudtalks application was designed for Windows PC, and allowed users to communicate instantly with friends by pushing and holding a hot key. You can still get Zello for Windows from our website. After the official launch on September 17, 2007 at the TechCrunch40 Conference in San Francisco, the service retained a low profile with about 10,000 registered users in the first three months. While traction was slow, the team kept improving the product and introducing new features, all while running the service from a single $200/month server hosted in Houston, TX at ThePlanet.
Everything changed with the release of Loudtalks for Blackberry. It was the first voice communications app on that platform, providing free push-to-talk (PTT) using any carrier network or WiFi. The Loudtalks Blackberry app drew over two million users within the first three weeks of its launch. The little side project was now a full-blown startup venture.
In early 2012, the Loudtalks team permanently relocated to Austin, TX where Loudtalks was rebranded and relaunched as Zello that February. Bill Moore (former founder and the CEO of TuneIn Radio) became the CEO of the newly incorporated, U.S. based company. From the original team of three in 2007, Zello has grown to a team of 16 - still small considering the size of Zello's user base. Only eight developers support over 100 million users worldwide.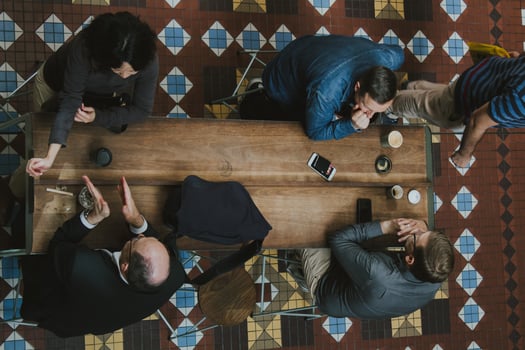 Zello Adds Business Service, Hardware Vendors, and Software Developer Program
In addition to the free consumer app, we have a paid subscription service. Zello provides PTT solutions for enterprise and mid-size businesses around the world; it is rapidly becoming the go-to solution for businesses trying to update antiquated radio systems. Major companies such as Starwood, Marriott, W Hotels, Restoration Hardware, IKEA, YRC Freight, Hubspot, and Honda use Zello.
Zello has worked with numerous hardware vendors to offer our users a wide selection of hands-free and enhanced audio solutions. See Zello Accessories for the full list of supported accessories. In addition, Zello has recently added an ISV Developer Program. Third party developers can now integrate Zello into their own apps using SDKs and APIs available from the Zello Developer Program.
Our Users are our Priority
Since its launch, Zello has remained totally free, ad-free and spam-free - and we plan to keep it that way. As we expand and improve our products and services, Zello will continue to remain focused on optimizing the user experience, ensuring a high-quality product, and providing top-notch support. We love hearing from our fans who are using Zello for good causes. Whether it's connecting people with similar goals/ideologies, reducing crime in neighborhoods, or rescuing people during natural disasters, we are proud that Zello has been chosen to be part of these efforts.
Thanks for the Zello Love!