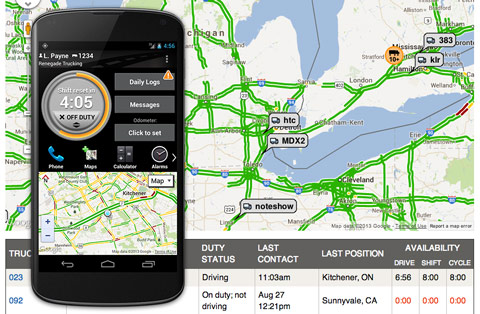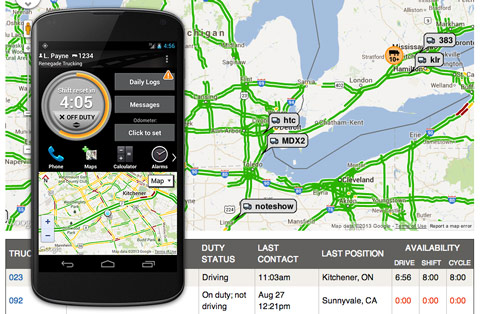 We have many truckers who use Zello instead of CB radios to talk to fellow truckers - it makes life on the road a little easier. To further help ease the stress of long-haul trucking, we've found a fantastic little app that is a perfect complement to Zello. It's called BigRoad, and it is a mobile logging app available from Google Play and iTunes app stores. BigRoad offers a simple, affordable solution for truckers who want to create electronic driver logs easily at the touch of a screen, eliminating the need for paper logbooks..
Since its launch in 2012, BigRoad has became the most downloaded trucker app on Android, iPhone, and iPad devices. BigRoad, based in Canada, regularly works with their customers to develop features which truckers want and are simple to use. With its easy-to-use UI and cost effective solutions, BigRoad lessens the burden of creating accurate logbooks, passing vehicle inspections, and optimizing fleet operations. There are 3 levels of service available, depending on features needed: Free, Fleet, and Fleet with DashLink
The Free app provides a basic logging solution allowing truckers to create their logs, vehicle inspections reports (DVIR), send documents, share location, and view maps with real-time traffic information. Upgrading to the Fleet version provides additional features for instant messaging, route history, mileage reporting, hours of service (HOS) summary, and data is archived per DOT regulations.
For the ultimate in engine-connected logging, truckers can use BigRoad's Fleet service with DashLink. DashLink is an accessory which uses Bluetooth to connect the app directly to the vehicle's engine. DashLink senses when the vehicle is moving or stopped so that drive start and stop times are instantly recorded. This ensures an accurate record and history of duty status changes. Engine diagnostics are also available for maintenance purposes.
All BigRoad driver logs are automatically checked for errors and verified against current regulatory guidelines for both the US and Canada, ensuring that no violations occur which can result in penalty fees. At any time, the driver can produce a driver log which is error free and ready for a DOT inspection. With DashLink installed, truckers will be ready for the upcoming Electronic Logging Device (ELD) mandate which is currently underway.
Safety is another big benefit of using BigRoad. By mounting the device on the dashboard, drivers can easily view their log history and total drive hours without having to fumble with paper logbooks. Additionally, the app stores up to 14 days of logs for inspection purposes, and a full history is also available for audit purposes.
Finally, BigRoad can save you big bucks. According to the BigRoad website, a 10-truck fleet can save over $30,000 per year by:
- reducing HOS log audits and fines
- eliminating expensive roadside faxing
- offering real-time fleet tracking
- allowing faster, compliant vehicle inspections
- offering truck route planning
- eliminating GPS hardware
- preventing form and manner errors.
So, give BigRoad a try and see how it can help make your trucking life easier... and tell all your Zello buddies too! For more information, go to www.bigroad.com