With Zello Cloud update published yesterday we introduced two new features and numerous improvements, which worth some explanation. These are dynamic channels and clients remote configuration from the admin console.
Dynamic channels
Now when configuring a channel in the admin console, you can choose from using group channel and dynamic channel.

Dynamic channels have a different icon and work differently too.
Unlike group channels, when you add it to the user, only that channel (and not its users) is added to user's contacts
You can connect and disconnect the channel from the client software in real time by double-click (tap) on the channel name. That way you can easily skip the conversations, which are not relevant at the moment
Since dynamic channels don't "pollute" your contact list, they could potentially scale well beyond 100 users per channel so you can use it for broadcast to really large groups of users which was impossible before.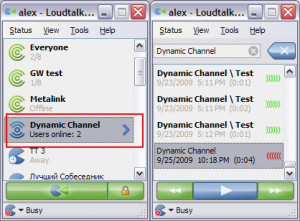 Along with the introduction of dynamic channels concept the group channels operations was also seriously redesigned. Both group and dynamic channels now include the following features:
For messages received from a channel, the channel name along with sender name appear in the notification window (only user name appeared previously)
Channels now have their own history display
When the new message is received from a channel after a period of inactivity ("new conversation" event), the channel is selected in the contacts instead of a user
Call setup time for one-to-many calls is faster than before and consistently under 1 second
There is a grace time of 10 seconds for every message sent to the channel. During that time the person speaking couldn't be interrupted. That solves the issue when many people start speaking simultaneously but still allows to interrupt someone, who took over the channel for too long.
Clients remote configuration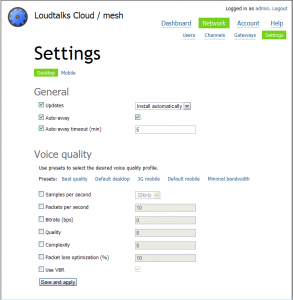 If you are running a large network, you may face the problem of manual configuration of every device, which could be troublesome. With remote configuration feature the network admin can setup certain client options for all users right from the web console.
Right now we enabled the configuration of automatic updates, auto-away and voice quality.
Voice quality configuration wasn't available before and now you can select one of standard profiles or go real hardcore and modify raw codec options. This might be especially useful if you are using Zello over the satellite internet (where traffic is extremely expensive).
If you haven't tried Zello Cloud yet, go ahead and try it now. It's free!