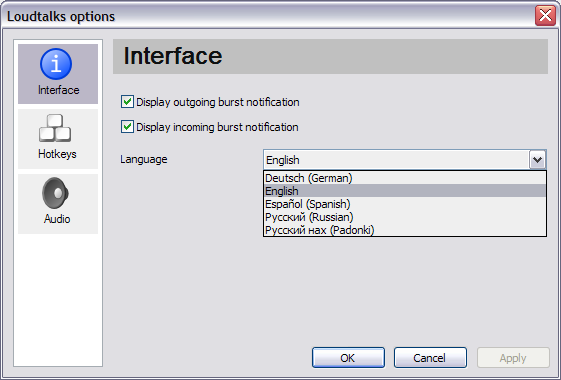 Today we released a major update. Here are the changes:
Added support for UI localization. English, Russian and Spanish (beta) languages are included
Group channels support
Logout progress indication
Sound capture device is configured automatically (fixes no sound problem some users reported with 0.9.0.25)
Updated versions can be installed without terminating Loudtalks
Better look of initial screen, when contacts list is empty
Improved installation experience for the new users
Misc. reliability fixes
Let's dig into some of the new features.

To change user interface language go to "Tools > Options..." select the desired language from the list and click "Apply". The changes take effect immediately.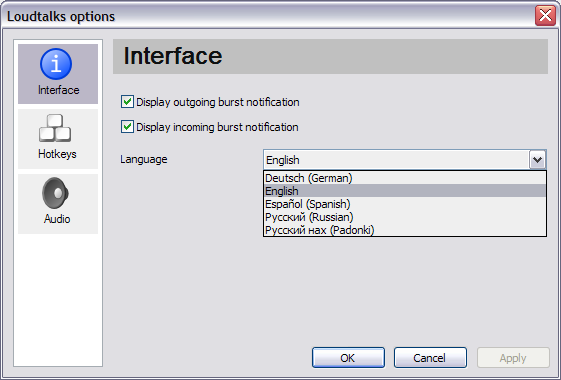 We've included language files for English, Russian and Spanish in this release. Spanish is experimental so if something looks funny there, please report and we'll fix. If you want to translate Loudtalks into your language, it's very easy to do. The language files are located in "C:\Program Files\Loudtalks\Lng" folder (assuming your system drive letter is C:). Create a copy of a file named "en" and open it in Notepad to edit.
Group channels in Loudtalks are different from your typical IM groups. Here are the key differences:
A contact can belong to many channels simultaneously
The contacts list shows both groups and individual contacts as one-level list rather than a tree
Group channels have the dual role. If you select the one and push "Speak" button you will speak to entire group. If you double-click on the group it works as a filter and allows you to find the desired contact quickly.
Below is a short memo on group channels usage in Loudtalks.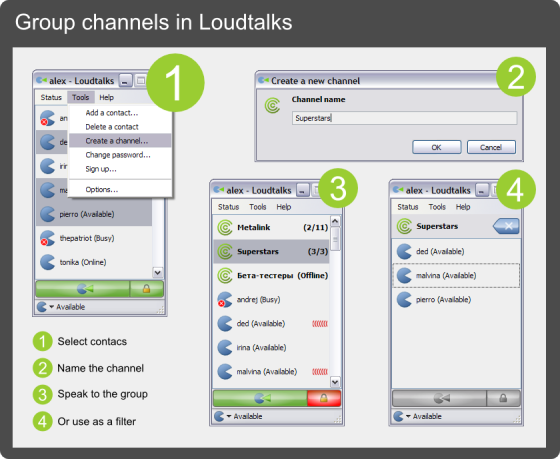 To create a group channel select the contacts you want to include and use "Tools > Create a channel..." command. Enter the channel name and click Ok.
Once created, you can use drag and drop to add contacts to the channel and remove them from it. Empty channel is deleted automatically.
You can use group channels two fold. First when it's selected your message will go out to the entire group. Second if you double click on it, it works as a filter allowing you to find the contact quickly.
I hope we are moving in the right direction. Please send your feedback and suggestions.